OVERVIEW
Struggling to find your way? We'd love to help.
We support CEOs, Company Directors, Managing Partners and VPs, achieve their full potential, providing professional and personal development for those who have little time and for whom being lonely at the top can be a common experience.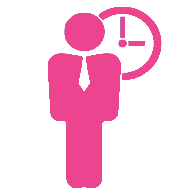 We help senior leaders transition into new roles. Using a three-step programme, your transition will be accelerated with a comprehensive on-boarding strategy and action plan. You'll take charge, embed a shared purpose, build your team and achieve better results, quicker.
We develop authentic, resilient    and courageous leaders. The programme is packed with theory and models, supported by an enriching reading list and inspiring videos. You'll transform into a leader who drives real change, leads the agenda, with heart.
We develop creative, intelligent, high-performing teams. Teams which move beyond the individual to unlock the team's potential. Teams with more self-awareness and trusting relationships, where constructive conflict is valued, all in service of business objectives.
We offer virtual team coaching. So, if your team works in Turin, Tokyo and Timbuktu, we can coach the entire team virtually, using the most up-to-date online products available. Which, of course, is very convenient.
We can help you change your career, fast. We'll use a proven three-stage programme that's creative and expansive yet rigorous and methodical, to find a new career that resonates and has meaning.
Many of our clients are CEOs, Company Directors or senior business leaders. Due to my 20 years in marketing communications, many are in the creative industry – for example in brand management, digital marketing or advertising. Many are in IT and financial services, and we've worked with actors, TV producers and musicians too.
They're ambitious, open-minded and curious, with a strong desire for change, wanting to bring out their best selves and create work they're proud of.
Our clients live around the globe – many are based here in London, and we've worked globally… from Paris to Milan, Amsterdam to Frankfurt, Johannesburg to Dubai… even Auckland and Seoul.
LEADERSHIP COACHING
"Duncan has more compassion and enthusiasm for his job and for people than almost anyone I've ever been with. It's amazing how he is able to connect with you and help you during coaching sessions. I definitely recommend Duncan, a great talent everyone wants to work with."  
Luis Palacios, Senior Business Leader, Cisco
TEAM COACHING
"I was very impressed with how at ease Duncan and Julie made the team, and the visual and interactive methods they used to enable us to extract the thoughts we needed to define our direction were incredibly insightful."
Paul Yates, Director of Account Management, Axonn
CAREER CHANGE COACHING
"Duncan is immensely skilled at his craft. He is exceptionally intuitive, open, non-judgemental and trustworthy to the core. I'm now following a totally different career path; Duncan helped me to close my former career chapter with grace and to transition into the new. Following coaching, my friends, children, husband and wider family have all noticed the change in me"
MK
CAREER COACHING
"Through career coaching with Duncan, he helped me find clarity in a way previous coaches hadn't. It is a real pleasure to work with such an open, present, authentic, warm, sharp person. I would highly recommend you speak to Duncan if you are looking for a coach."
JT
Let's Start a Conversation